Details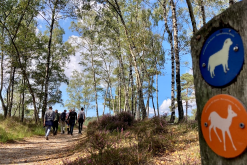 Hiking is suitable for everyone. Children are also welcome.
No poles or sticks needed.
Hiking trips are organised throughout the year, always on the 2nd Sunday of the month.
You do not need to register in advance.
We always leave at the agreed place at 12:30 pm sharp.
The hikes are between 10 and 15 km long and there are always a few breaks for lunch or snacks.
Dogs are welcome (on a leash where required)
Bring: small lunch and/or snacks, drinks and of course sturdy hiking shoes and appropriate clothing according to the weather conditions.
Carpooling can be mutually agreed.